Donghia Fabrics
was founded by Angelo Donghia. Mr Donghia was known primarily as an interior designer. Donghia only entered the furnishings business when in the course of his interior design work, he encountered a complete lack of unique quality furnishings to use with his designs. Donghia later developed exquisite wall coverings and accent pieces to further compliment his textile designs.
Donghia Fabrics
clients soon came to represent a virtual who's who of the powerful and successful in both the entertainment world and the business world. Donghia fabrics enviable customer list included Ralph Lauren, Mary Tyler Moore, Donald Trump, and Halston.
The very name, Donghia Fabrics, became synonymous with craftsmanship and innovation. Mr Donghia's induction into the interior design hall of fame and his countless features in magazines such as Architectural digest thrust Donghia Fabrics onto the world stage of interior design.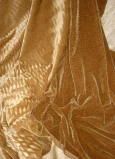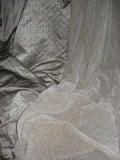 The Cloud Nine Mohair Velvet is from the Donghia Fabrics Plush Collection and retails for over $400 a yard. Donghia Fabrics intuitively combines yarns in a jacquard weave of mohair and viscose resulting in a unique velvet with a curly finish. This dynamic construction creates frosty highlights with cloud like softness. This fabric is shown in magazines such as Architectural Digest is usually available to the trade only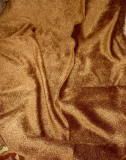 Donghia Fabrics Astrakhan chenille
is reminiscent of the Russian coats and hats from the early 19th century. The name Astrakhan is taken from the name of the curly fur of the lamb from the Astrakhan region of the former Soviet Union. Donghia Astrakhan is available in a rich variety of colors including Mahogany, Chocolate, Lipstick Red, Wheat, and Field.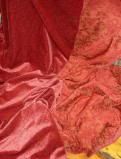 Donghia Fabrics Morgane Chenille is a subtle tone on tone damask like pattern.
Morgan Le Fay was King Arthur's half sister. Donghia Morgan lives up to it's name by illustrating a more refined look representative of old world craftsmanship, ancient castles , and antique textiles.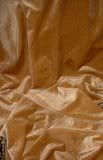 Donghia Fabrics is renowned for it's vast collection of
mohair velvets
. The Donghia Basketcase Mohair velvet is 100% mohair in a small scale jacquard weave pattern. Available in a variety of colors including sapphire, peanut, spring green, and plum, Donghia Basketcase is a favorite among interior decorators worldwide.
Donghia Fabrics has historically maintained a reputation for innovation and quality and continues to be used in fine homes around the world.
Sferra 1020 threadcount Sheets
Sferra 1891 Collection
.